Dental Veneers In Gilbert, AZ
Looking for a long-lasting, natural-looking solution to discolored, chipped, or crooked teeth? Do you have gaps in between your teeth that you'd like to instantly close? Our team offers luminous porcelain dental veneers to address all of these issues and give you a smile that will boost your confidence!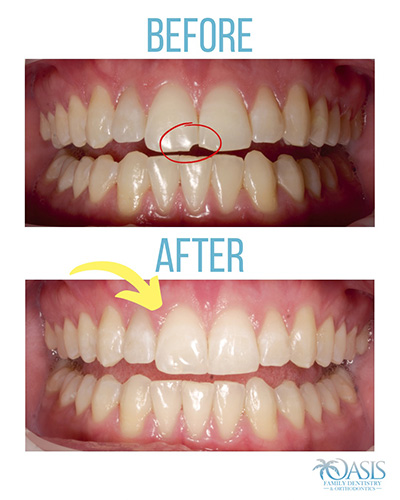 Dr. Arora crafts porcelain dental veneers designed to treat all of your cosmetic dentistry concerns in as few as just two or three appointments. Searching for the very best porcelain veneers near Gilbert and Chandler, AZ? The friendly and skilled dental team at Oasis Family Dentistry and Orthodontics is here for you!
Make Over Your Smile With Porcelain Dental Veneers
Dental veneers, also known as tooth veneers, front teeth covers, and instant orthodontics are thin cosmetic covers made from luminous, natural-looking, and durable porcelain. Tooth veneers are used to beautify all different types of smiles, including those with cracks, stains, and even orthodontic issues.
If the following conditions are getting in the way of your confidence, porcelain veneers could be the right choice for you:
Misshapen Teeth
Chipped Or Cracked Teeth
Gap-Tooth Smiles
Yellow, Gray, Or Discolored Teeth
Your no-pressure consultation with Dr. Arora will consist of a gentle examination and a series of digital photos to determine your oral health. Come prepared with as many questions as you'd like. If Dr. Arora feels that you are an excellent candidate for porcelain veneers, you will have the chance to partner with him to create a new smile that is custom-shaped and custom-shaded to fit your goals.
How Long Do Teeth Veneers Last?
The lifespan of porcelain tooth veneers can vary from person-to-person and mostly depend on factors like lifestyle and oral health habits. That being said, if you are committed to maintaining an excellent hygiene routine and visit Dr. Arora for regular appointments, you can expect your teeth veneers to last decades!
How Much Do Dental Veneers Cost?
Similar to most other cosmetic treatments, the total cost of dental veneers will mostly depend on the following factors:
The number of porcelain teeth veneers selected
If any preliminary procedures are required
At Oasis Family Dentistry and Orthodontics, we're committed to providing fair and honest price breakdowns and treatment timelines. And, remember, we accept a wide range of dental insurance plans, as well as no-interest and low-interest plans through CareCredit®! If you're uninsured, we even offer an in-house dental discount program designed to help you save on all services.
Schedule Your Dental Veneers Consultation With Oasis Family Dentistry and Orthodontics Today!
Our porcelain veneers can brighten, whiten, and straighten your smile! Call us today to schedule your consultation!